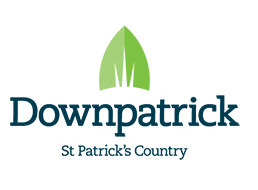 Make the most of your visit to Downpatrick and you will be enchanted with the hidden world which is Saint Patrick's town.
The later seat of the High Kings of Ulster, burial site of the patron saint and medieval capital of County Down, Downpatrick is an essential stop for those interested in saints, scholars and Irish Christian heritage.
Spend some time at the Saint Patrick Centre major multimedia exhibition and learn about Patrick's life. Visit the ancient Down Cathedral and Saint Patrick's Grave and then walk to Down Museum which displays artefacts from Patrick's time.
Take a train ride on the only narrow gauge steam railway in Ireland through Saint Patrick's Country with the Down Railway Museum to Inch Abbey where many of the legends of Patrick were written down in Medieval times.
Perhaps you will visit the first church in Ireland at Saul and the first holy wells at Struell with their healing waters, all within a mile of the town. Or you could climb nearby Slieve Patrick and see the largest statue of the Patron Saint in the World and trace his footsteps on Saint Patrick's Trail to the River Slaney where he began his pilgrimage to Ireland.
St. Patrick's Trail
Downpatrick is a fundamental part of the St. Patrick's Trail where you can find out more about our patron saint through a host of Christian sites at Bangor, the Ards Peninsula, Newry and Armagh. Download the View Trail map >>